With thanks to Creative Scotland, we are delighted to announce a further three 'Tae Sup wi' a Fifer's, all running at the Adam Smith Theatre, in Kirkcaldy, Fife.
Tickets for all three may be bought here
Sat 18 May – Gruff Rhys / Brighde Chaimbeul / James Yorkston
Sat 15 June – Josephine Foster / Jenny Lindsay / Adrian Crowley
Sat 24 August – Horse McDonald / Daoirí Farrell / Kaviraj Singh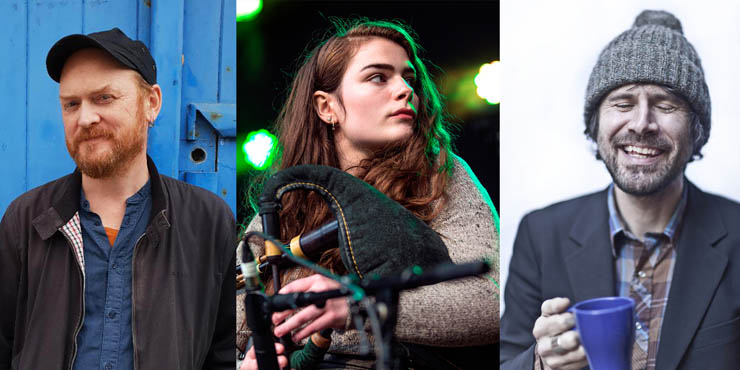 Sat 18 May – Gruff Rhys / Brighde Chaimbeul / James Yorkston
Gruff Rhys is a Welsh musician, composer, producer, filmmaker and author. Gruff performs solo and with several bands, including Super Furry Animals. His electro-pop outfit Neon Neon's album Stainless Style was nominated for the 2008 Nationwide Mercury Prize. He won the 2011 Welsh Music Prize for his album Hotel Shampoo, which was followed up by American Interior in 2014, accompanied by a film, a book and a mobile app. His most recent album Babelsberg was released in 2018.
Brighde Chaimbeul is a piper/whistle player from the Isle of Skye | BBC Radio 2 Young Folk Award Winner 2016. 2018 album 'The Reeling' produced by Aidan O'Rourke (Lau)
"unforgettable deep atmosphere" **** "unique, exciting and forward-looking, has set the bar for 2019 very high indeed" – The Quietus
James Yorkston –In February 2019, Domino Records released James Yorkston's 12th solo album – The Route to the Harmonium. James was an integral original member of the much lauded and hugely influential Fence Collective (King Creosote, Pictish Trail, KT Tunstall, Beta Band etc). Throughout his career, James has released a succession of critically-acclaimed albums as both a solo artist and as part of the collaborative project Yorkston Thorne Khan.
Sat 15 June – Josephine Foster / Jenny Lindsay / Adrian Crowley
Josephine Foster – "Few artists have crafted a niche for themselves quite like Josephine Foster. The Colorado-based former funeral and wedding singer has sung Brahms and Schubert, interpreted poetry by Emily Dickinson, Rudyard Kipling and James Joyce and reimagined Spanish folk songs. She uses distinctive instrumentation – guitar, piano, organ, harp and autoharp – but really her vast oeuvre is all about her unmistakable voice." Dave Evans, The Guardian
Jenny Lindsay is one of Scotland's best known spoken word performers. Her 2018 solo show, 'This Script and Other Drafts', was described as "one of this year's most necessary spoken word performances" by The Wee Review. "Defiant, eloquent and inspiring." (The Scotsman) "Takes to the stage as if staging a coup." (Gutter Magazine). Her second full collection of poetry will be published in Spring 2019.
Adrian Crowley grew up in the West of Ireland and now calls Dublin city his home. He is a writer of songs, story teller, composer, and a singer with a chocolate voice. He has quietly been developing and expanding his craft with each consecutive album since his debut in 2001. He was nominated three times for Ireland's Choice Music Prize and won the prestigious award with his album 'Season Of The Sparks in 2010. He has toured extensively in Europe and USA, has released four LPs on Scottish label, Chemikal Underground Records, and is currently working in his ninth studio album. His most recent album 'Dark Eyed Messenger' was produced by Thomas Bartlett in New York City.
Sat 24/August – Horse McDonald / Daoirí Farrell / Kaviraj Singh
Horse is an iconic and utterly unique singer/songwriter. With a successful career expanding over three decades, she has opened for and toured with several international artists including Tina Turner, BB King, Bryan Ferry, Burt Bacarach, as well as touring extensively in her own right.

The Scotsman referred to her as "one of Scotland's all-time great vocalists, also possessed of a keen songwriting intelligence".
Singer and bouzouki player Daoirí (pronounced 'Derry') Farrell was described by Dónal Lunny as "one of the most important traditional singers to emerge in the last decade'". Six months after releasing the album 'True Born Irishman' Daoirí won two prestigious BBC Radio 2 Folk Awards 2017 for Best Newcomer and Best Traditional Track. Daoirí released his new album 'A Lifetime Of Happiness', in February 2019.
'Farrell has created quite a buzz…it's easy to hear why. His powerfully unadorned vocals might be from any era, variously recalling Paul Brady and Andy Irvine…it's a powerful statement.' **** Mojo
Kaviraj Singh is a unique and celebrated talent of the new generation of Santoor (hammered dulcimer) players. He is the youngest artist to have performed at the prestigious Darbar Festival in 2008 and has shared his music widely at popular venues across India, Europe and the UK.

A multi-instrumentalist and talented singer, Kaviraj has honed his skills under the guidance of some of the leading exponents from the Indian musical tradition and now seeks to explore fresh ground creating new and unique tones and textures using his Santoor and voice.