T'is a thrill as ever to announce this next round of Tae Sup wi' a Fifer.

Curating these line-ups is a lot of fun, of course there is a responsibility to make each show individual and special, with its own peculiar flavour, and that just helps with the excitement, as the bills come together, keeping the quality high, the art diverse. I'm delighted that we have these four pure braw nights to look forward to.

I'm a fan of every single act coming up and there's no doubt I'd be attending every one of these shows even if I wasn't programming them. As ever, I have to thank Creative Scotland for their continued support, helping Tae Sup wi' a Fifer bring world class talent to the great town of Kirkcaldy.
Sat 14th September – Jane Weaver / Ian Rankin / Callum Easter
Friday 25th October – Stuart Braithwaite (Mogwai) / Bell Lungs / Gwenifer Raymond
Sat 16th November – Hollie McNish / Ye Vagabonds / Nancy Kerr & Luke Daniels
Sat 14 th December – Josie Long / Martin & Eliza Carthy / Rachel Newton
Further info follows below…
Sat 14 th September – Jane Weaver / Ian Rankin / Callum Easter
Jane Weaver
Abusing, evading and obliterating 20 years of whimsical pop trends, Jane Weaver's experience as a truly independent and resilient female experimental songwriter / sound-carrier commands respect and inspiration in equal measures.
Here we find a model student of second-hand Kraut-rock, female punk, hard-subbed new-wave, synthesiser skip-finds and unpronounceable worldly feminine pop who's finally reached her eureka moment.
"Motorik rhythms and ancient technology create music that brims with urgency and originality." MOJO
Ian Rankin
"I'll be in the middle of writing a new novel (hopefully) so may give a sneaky reading from that. I'll mostly be talking about the writer's life, with a few (hopefully) funny anecdotes along the way. Should I take questions from the audience? That could happen. And there'll be a bit of chat about growing up in the wilds of Fife (six long miles from Kirkcaldy), my weekly pilgrimages to the Pogo-A-Gogo club (literally next door to the Adam Smith Centre) and how music was my first love (and it will be my last)…"
Callum Easter
Edinburgh-based singer of otherworldly rhythm and blues songs, an artist who has built a strong local reputation emerging from the creative heat of the Leith studio that spawned Mercury Prize-winning act Young Fathers – with whom Callum plays keys and lap steel live and has toured with as support.
Friday 25th October – Stuart Braithwaite (Mogwai) / Bell Lungs / Gwenifer Raymond
Stuart Braithwaite (Mogwai)
Stuart is the guitarist and de facto frontman of Scottish post-rock legends Mogwai. This visit to Fife will see Stuart performing an incredibly rare solo guitar set.
Bell Lungs
Celestial drones, mesmerising vocals and glitchy electronics from experimental dream pop musician Bell Lungs. Fiercely DIY, this one-woman powerhouse from Scotland has been touring perpetually for the past few years across the UK, Europe and USA, her striking voice appearing on the airwaves of BBC Radio 3, 4 and 6.
Gwenifer Raymond
Gwenifer began playing guitar at the age of 5 and after years of playing around the Welsh valleys in various punk outfits she began listening more to pre-war blues musicians as well as Appalachian folk players, eventually leading into the guitar players of the American Primitive genre.


'…a profound talent.' ***** The Guardian

'…embodies all that is commendable about these folk titans…' ***** Record Collector

'…stunningly confident, in full possession of its art' Uncut
Sat 16 th November – Hollie McNish / Ye Vagabonds / Nancy Kerr & Luke Daniels
Hollie McNish

Hollie McNish is a full-time writer who loves writing poetry. She has published three poetry collections Papers, Cherry Pie and Plum, and one poetic memoir on politics and parenthood, Nobody Told Me, of which the Scotsman suggested "The world needs this book" and for which she won the Ted Hughes Award. Hollie tours continuously all over the UK and Europe and beyond and is a big fan of online readings – her poetry videos have attracted millions of views worldwide.
Ye Vagabonds
Brothers Brían and Diarmuid Mac Gloinn, sing in Irish and English and accompany themselves on violin, bouzouki, guitar and mandolin. They were nominated for a BBC Folk Award on the strength of their self-released and largely self-written debut album and have receiving several nods from the RTÉ Radio 1 Folk Awards.
Nancy Kerr and Luke Daniels
Two of the British folk scene's top performers have teamed up for some duo/double header shows to perform their own and each other's music. Nancy Kerr is one of the most celebrated folk musicians of her generation and has to date won 6 Folk Awards from BBC Radio 2: 2015 Folk Singer of the Year. A stunning mix of contemporary folk music and inspired instrumental virtuosity.
"Luke Daniels is a master melodeon player" – Mark Radcliffe
Sat 14th December – Josie Long / Özgür Baba / Rachel Newton
* Özgür Baba unfortunately had to cancel this show due to visa issues. His replacement was English folk legends Martin and Eliza Carthy*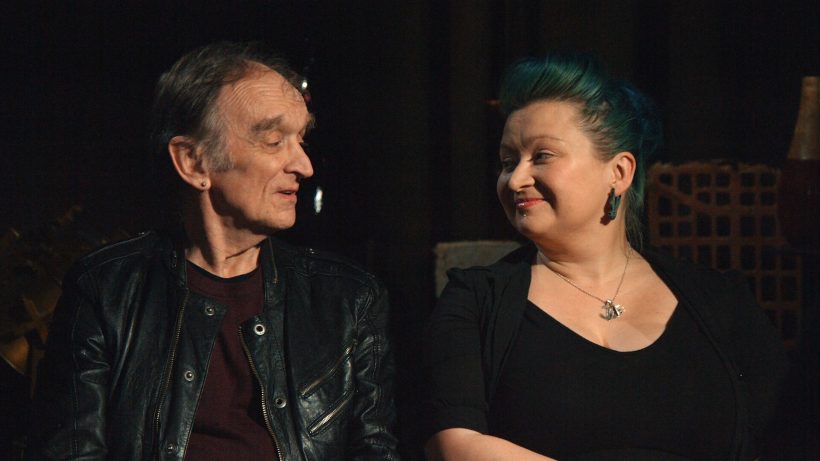 Josie long
Josie Long is one of the most respected comedians of her generation.
Her eighth solo stand-up show, Something Better, had a sell-out two weeks at the Soho Theatre in London, followed by a two-week run at the Barrow Street Theatre New York.
She has been nominated for the coveted Best Show award at the Edinburgh Fringe three times and has won the BBC New Comedy Award.
On TV and radio, Josie has appeared on The News Quiz, Just A Minute, Never Mind the Buzzcocks, Skins, 8 out of 10 Cats, and Drunk History.
Özgür Baba
Özgür Baba is a Turkish folk musician and singer. He plays the saz, a traditional Turkish string instrument. His music is an enchanting, minimalist interpretation of old, traditional Turkish folk songs. His Youtube performance of Dertli Dolap ("Endless Trouble") has had over two million views.
Rachel Newton
Singer and harpist Rachel Newton was named the 2017 BBC Radio 2 Folk Musician of the Year and the Scots Trad Music Award Instrumentalist of the Year 2016. Her third solo album Here's My Heart Come Take It was shortlisted for the Scottish Album of the Year (SAY) Award as one of Scotland's top ten outstanding albums and was described as 'a beauty' in the Observer.