Friday, February 9th, 2018
Friday May 18th 2018
Ian McMillan, Withered Hand, Grace Petrie
Ian McMillan is a writer and broadcaster. His latest collection To Fold The Evening Star – New and Selected Poems was published last year. As well as presenting BBC Radio 3's The Verb, he's a regular on BBC Breakfast, Coast, Countryfile. 'inching towards the status of a National Treasure' – Andy Kershaw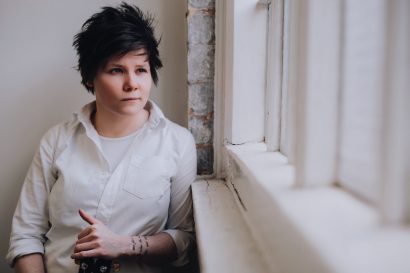 Grace Petrie by http://www.ellylucas.co.uk[/caption%5D

Grace Petrie, A folk singer, songwriter and activist, Grace Petrie's Heart First Aid Kit was one of Mojo magazine's top 10 albums of 2017. She has racked up tour supports with Emmy the Great and Billy Bragg, and supported comedians Robin Ince and Josie Long. She has collaborated with some of the most respected names in folk, including Leon Rosselson, Roy Bailey and Peggy Seeger.
Withered Hand – aka Dan Wilson. His two albums, 'Good News' and 'New Gods', have garnered accolades and been praised for their depth and startling honesty. A Rolling Stone 'Artist to Watch'. "New Gods is a record whose amiably DIY musical quality is perfectly matched with a lyrical tone which is at once tuned to a laser-like precision and helped no end by a voice which sounds agonised but still hopeful at every turn" ***** The Scotsman
Tickets here
Saturday 16th June 2018
Michael Hurley/Phill Jupitus/Siobhan Wilson
Rare UK appearance by hugely influential American alt-folk music legend Michael Hurley. His debut album, First Songs, was released on Folkways Records in 1965. Michael describes his music as "jazz-hyped blues and country and western".
Phill Jupitus is a comedian, actor, performance poet, cartoonist and podcaster. For 20 years he was team captain on BBC Two's popular music quiz Never Mind the Buzzcocks.
Influenced by a classical training, Parisian chanson and smoky jazz, Siobhan Wilson's incisively written, boldly unorthodox indie-pop/folk-noir songs have earned rhapsodic reviews.
Tickets here